Cows Help
Log On

In order to create or edit requests in COWS, you will need to log on. The Log On control is in the upper-right corner of the page. COWS will redirect you to the UC Davis CAS authentication page, which requires your campus Kerberos credentials.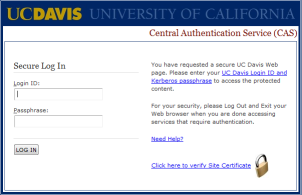 After successfully logging in, you will be redirected to COWS.
If you request a page that requires authentication and you are not already logged in, you will be redirected to the CAS authentication page automatically.

Once you are logged on, the control displays your username and a Log Off link in a normal size.